3 Mistakes Homeowners make when starting Interior Design Project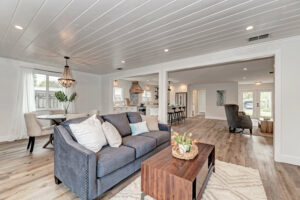 1. Over-scaled furniture
The first Mistake Home Owners make is picking out over-scaled furniture. It is necessary to measure your room. This will help you layout the size of your furniture. If needed even use tape to lay out the furniture in your room. Sometimes a sofa may not look large, but what makes the sofa large is the size of the arms or the depth of the sofa. You can still have a lot of seating in a small room, but you may need a more petite size arm and a more standard depth sofa.
The scale of the furniture is a huge part of how a room feels and what size furniture can work in any Interior. Interior Design requires the time to spend on scaling the space with the furniture as well as selecting items that work and look great. I would suggest working with an Interior Design Professional to assist with this part of your project. If that doesn't work for your budget, please see a great article on tips to measure your room properly.
Check out a link to a great Interior Design resource on how to measure for furniture in your room.
2. Interior design trend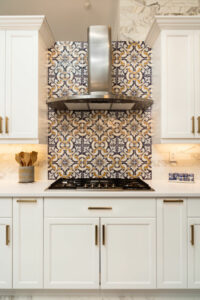 Another Interior Design décor item that homeowners make a mistake in their homes is using a current Interior design trend and implementing it in every room or multiple places throughout the home. If you love an interior design trend, my advice is to add this to certain areas of the room that can easily be changed out in ten-plus years. Interior Design trends usually change every decade. One great example of using a trend is when implementing this in the kitchen. A lot of times a certain type of tile becomes a trend. In the last few years, patterned cement tile has become a trend.
My design suggestion is to incorporate this as a kitchen backsplash, or possibly on a powder room wall. However, if you decide to use this on a floor, I find that as a more permanent decision.
This will be likely to stay in your home, longer and over more time.  If you would like to use this on the floor I suggest smaller rooms, such as a laundry room, powder room floor. That way, it isn't a huge project of removing when you are over this Interior Design trend.
Check out links to a great resource for this type of tile.
3. Wall Decor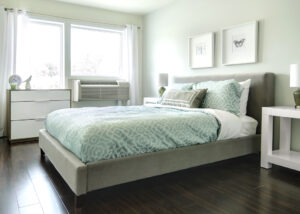 A common mistake I see when homeowners start to design their homes is they tend to put a piece of furniture on every wall in each of their rooms. When working on an Interior Design project in your home, work out what furniture pieces are necessary. It is better to leave at least one wall empty in your room. Whether the room is your bedroom, family room or kid's room.  When it comes to your bedroom, I suggest investing in a closet storage system this will enable you to only purchase a dresser for your bedroom. It is better than purchasing the entire bedroom suite; the airmore, Dresser, and chest of drawers. This is also to keep in mind when you are designing your family room, den, etc.
Check out a great link on how to layout a bedroom design