The Most Popular Interior Design Styles Trends for 2021
The Most Popular Interior Design Styles Trends for 2021
This year a lot has changed. We used to do a lot more of commuting to work and working in offices. Due to the current pandemic, a lot of us are working from home and balancing that work/home life in the same space. One of the most popular Interior Design Styles I see making sure it is front and center is Comfort, color, and curated items we use every day.
Comfort
Comfort can come in many different Interior Design Styles, but if you think of comfort you think of; plush furniture and soft and textured fabric. Here are a few of my favorite Interior Design Styles for a cozy sofa. Large pillows filled with extra fill. Makes it easy to melt into. Another great way to bring comfort pieces into your home is to select fabrics like velvet, suede, or even chenille. These fabrics are always comfortable. They also happen to be super durable for families and pets. View Cozy Chair, Performance Velvet, Lagoon, Poly
Color
Adding Color is also a new Interior Design Styles trend for this year. More people are decided to add color, rather than stick with all neutrals though out the home. As we all take more time at home, it is nice to add some color to our rooms. Another great way to achieve color is to add it through décor or accessories. Check out a fun colorful bedroom design we did, by just adding pops of coral color. Another fun way to add some additional color and Interior Design Styles is to add fun and playful wall coverings. My favorite wall covering company is Romo and Serena & Lily. Check out a few of my favorite designs.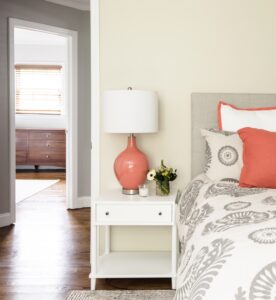 Curated Decor
Curated everyday decor items. Such as luxurious bedding, towels, and selecting pieces with meaning from your dishes to your drinking glasses. These are items you can add to your personality and can create your own unique Interior Design Styles. This will add value to your everyday life and then we can appreciate the little things, like a great cup of coffee! Whether your Interior Design Style is Boho, Modern, or Farmhouse there are tons of options out there to really make your house a home. Check out a few of our favorite Interior Design Style Accessories below.
Boho Interior Design Style
Modern Interior Design Style
Farmhouse Interior Design Style